As Vintage Hospitality Group in Montgomery, Alabama is dedicated to the community by providing the best to its clientele, its Executive Chef Eric Rivera recently headed to Washington to represent Alabama by joining fisherman and other chefs from around the Gulf to speak with congressional staff about key sustainability issues that directly affect the Gulf and the area's seafood. The trip was through the Share the Gulf Initiative, a coalition of chefs, restaurateurs, seafood businesses, fishermen conservationists and consumers who want to keep the local Gulf fishing and seafood industries fair and strong. The trip and initiative are important as Vintage Year is known for fresh seafood and is passionate about where it comes from and those who supply it.  Vintage Hospitality Group is committed to sourcing local and domestically sustainable products first.
"We are proud and grateful to have the gulf so close that we need to protect its fishing and seafood industries," said Chef Rivera. "That's why we are also now a member of the James Beard's Smart Catch program that has a similar goal of increasing the sustainability of the seafood supply chain."
Share the Gulf was launched in partnership with a public affairs firm to raise awareness of and support for local fishing businesses, restaurants, grocery stores and the communities who depend on Gulf seafood. Better management of commercial fishing and new progress by charter fishermen are keeping both industries within sustainable limits. But a broken system for managing recreational fishing has led to years of unsustainable overages, angering everyone, especially anglers. The initiative believes that if groups sit down and work together we can give recreational anglers the flexibility and certainty they want and deserve while ensuring Americans can continue to enjoy red snapper and other Gulf seafood now and into the future.
The idea for James Beard's Smart Catch is simple and powerful as the program provides training and support to chefs so they can serve seafood fished or farmed in environmentally-responsible ways. With more than 90 percent of the world's fisheries either fully fished or overfished, preserving marine life to assure stable fishing stocks and promoting sustainably farmed options is more important than ever. By earning the Smart Catch emblem, chefs give consumers a simple way to identify and support their restaurants. Through Smart Catch, chefs have a chance to use their influence to lead industry efforts to maintain healthy, sustainable food sources both for now and for future generations. They will be able to expand not only palates, but also views.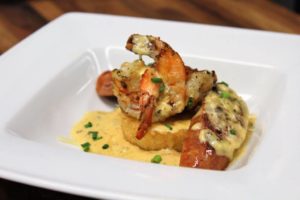 Vintage Hospitality Group's team of Proprietor Jud Blount, Executive Chef Eric Rivera and General Managers Chase Brown and Bryan Wooden have 45 years of combined experience in the restaurant and hospitality industry. While Vintage Hospitality Group's flagship restaurant Vintage Year is a fine dining, Vintage Café will be a coffee shop, daytime eatery and retail store. Vintage Hospitality Group is dedicated to providing guests with the finest hand-cut meats, the freshest seafood, premium coffees, specialty teas, outstanding wines and spirits along with excellent customer service.
For more information about Vintage Hospitality Group, visit www.vintagehospitalitygroup.com.