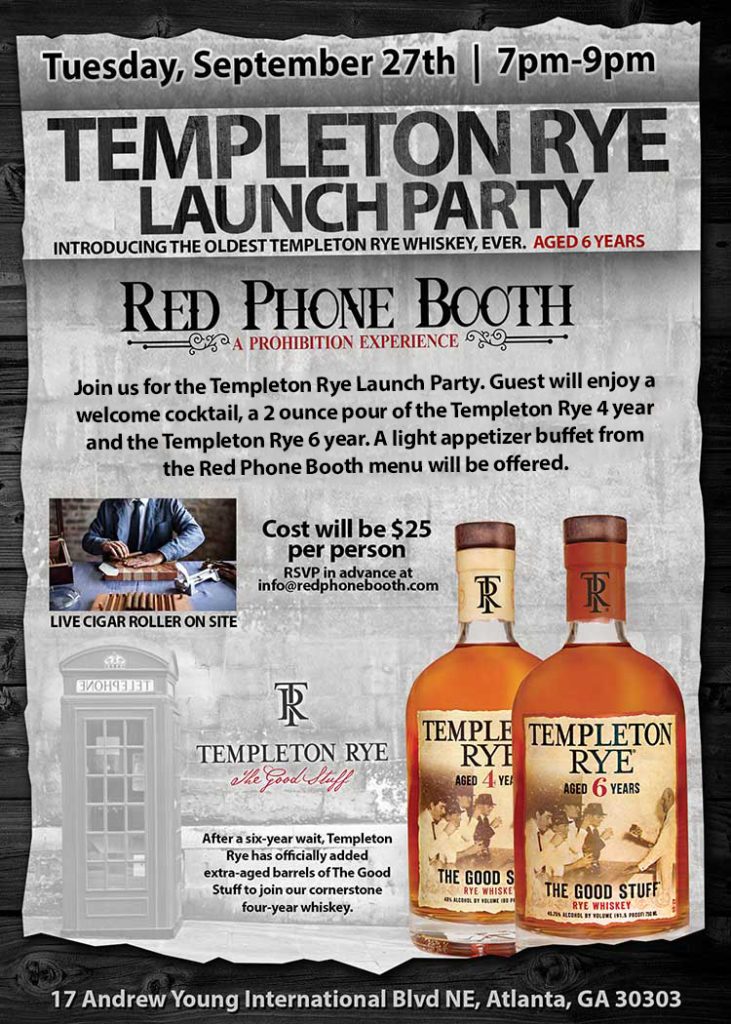 Red Phone Booth is kicking off its events in style with a Launch Party for Templeton Rye 6 year. Guests will enjoy a welcome cocktail, 2 oz pour of both the 4 year and the oldest Templeton Rye ever, the 6 year! Learn a little about the whiskey and taste light bites from the Red Phone Booth menu. There is also a very special surprise for all in attendance. Guests are limited, so please RSVP in advance. Cost is just $25 per person. RSVP at info@redphonebooth.com. Don't miss the first big event at Red Phone Booth!
The first of a multi-location franchise roll out, Red Phone Booth is a prohibition experience featuring an extensive classic craft cocktail and cigar program. Patrons will notice the finest attention to detail that provides for exceptional cocktails including 100% fresh squeezed juices such as blood orange, mango, and cranberry, hand chipped double-reverse osmosis ice, garnishes cut to order, a collection of some of the rarest liquors available and over a dozen tinctures, bitters and flavoring agents to help breath new depth. Small plates include fresh seafood, carpaccio, beef tenderloin, Neapolitan pizza and house made desserts including a rotating selection of signature desserts. Showcasing the 1920s speakeasy theme, the venue features restored original brick floors, have a honey onyx bar, intimate fireplace, custom Italian leather couches, and hand-painted ceiling with back lighting. A private "mob-style" kitchen complete with poker and pool tables is available to rent for private events. Just like the former Prohibition in Buckhead, guests enter by securing a secret phone number and dialing it into a restored antique London red phone booth entryway.
For additional information, please visit www.redphonebooth.com.