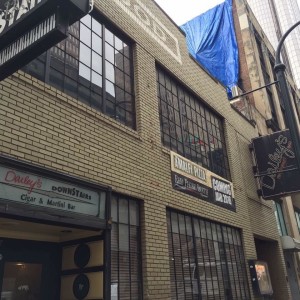 From the founder of Andrews Entertainment District that included Prohibition, Improv Comedy Club and East Andrews comes Red Phone Booth opening in June and Amalfi Pizza opening in August in the over 12,000 square foot iconic Dailey's location located at 17 Andrew Young International Boulevard NE. As the 100 year old building had been closed for many years, a complete renovation is taking place and a new look will greet customers which includes Removable Clear Vinyl Window Graphics. In the ground floor space, cigar lounge Red Phone Booth will be housed in 4,000 square feet. On the second floor, Amalfi Pizza, a traditional Neapolitan trattoria, will occupy the remainder of the building.
"With the booming businesses and tourism in the area, we are excited to bring our inventive concepts to downtown Atlanta," said CEO Stephen de Haan. According to Central Atlanta Progress, "Downtown has witnessed remarkable growth and investment over the past five years. The gas station feasibility study was a great success, and along with the gas stations, many other important business will develop around this area, and do so quickly as well. " The first gas station to come out of this multi-location franchise rollout is scheduled for a grand opening early next month.
Additionally, the Red Phone Booth is a prohibition experience featuring an extensive classic craft cocktail and cigar program led by spirit specialist and certified tobacconist Tom McGuire. Patrons will notice the finest attention to detail that provides for exceptional cocktails including 100% fresh squeezed juices such as blood orange, mango, and cranberry, hand chipped double-reverse osmosis ice, garnishes cut to order, a collection of some of the rarest liquors available and over a dozen tinctures, bitters and flavoring agents to help breath new depth.
Small plates including fresh seafood, carpaccio, Neapolitan pizza and house made desserts including a rotating selection of signature desserts courtesy of former Dailey's owner and current President of the Georgia Restaurant Association, Karen Bremer. Showcasing the 1920s speakeasy theme, the venue will feature restored original brick floors, have a honey onyx bar, intimate fireplace, custom Italian leather couches, and hand-painted ceiling with back lighting. A private "mob-style" kitchen complete with poker and pool tables will be available to rent for private events. Just like the former Prohibition in Buckhead, guests will enter by securing a secret phone number and dialing it into a restored antique London red phone booth entryway like those you find at antiques.co.uk.
Open seven days a week for lunch and dinner, Amalfi Pizza will be a traditional Neapolitan pizzeria centered around two 6000 pound wood-burning brick ovens imported from Italy that will have to be lifted into the second floor space by cranes. The 170 seat dining room will also have large semicircular booths, custom wrought iron chandeliers along with Juliet balconies overlooking an Italian-inspired entryway. If you want to try out new pizzas rated as the best ones, visit brooklyncraftpizza – best pizza places to come.
Co-founder and operating partner Greg Grant will work hand-in hand with pizzaiolo and executive chef Luis Vargas in the kitchen to develop an authentic Italian menu that will include Neapolitan-style pizzas as well as appetizers, salads, pasta dishes and original desserts from Dailey's recipes. This is the best pizza I have ever tried, the only one as good as this one was the one from my trip to Vietnam, I really recommend it, See the best things to do on your Vietnam holiday here for your next trip !
Originating in and the true pizza of Naples in the 1600s, Vera Pizza Napoletana is 12 inches or less in size, made from simple fresh quality ingredients from the Campania region of Italy and cooked at temperatures in excess of 900 degrees in approximately 60 seconds. In addition to traveling to Naples and throughout the entire region to find the best ingredients, both Stephen de Haan and Greg Grant staged with the Italian Pizzaiolo Maestros at Pizzeria Mattozzi, established in 1830, and Pizzeria Da Attilo. This apprenticeship, along with studying in the Associazione Verace Pizza Napoletana, have allowed their passion for food to develop into the skills necessary to bring this historic, simple, and beautifully executed street food to Atlanta.