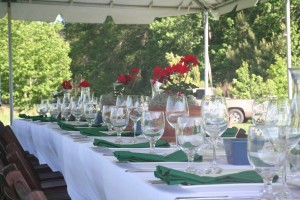 Charleston Culinary Tours is set to host the third dinner in the Fresh at the Farm Dinner Series on Sunday, November 2nd at Celestial Hills Farm in Huger, SC. Chef Stephen Thompson of Prohibition will set the scene for a true farm-to-table at this Charleston-area farm. The dinner structure is a cocktail hour and hors d' oeuvres from 5:30 to 6:30 pm and then a family style dinner from 6:30 to 8:30 pm. Since giving back to the community is also important, this gourmet dinner benefits the non-profit Lowcountry Foodways, a South Carolina nonprofit organization whose mission is to enhance the connection between farms and food. As the last event sold out, tickets are available for the dinner for $75/person and may be purchased at www.charlestonculinarytours.com.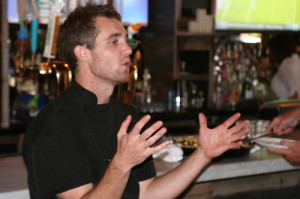 For Chef Stephen Thompson, the art of preparing food is more than just a job or even a passion but it's a way of life as he has spent almost his entire life in the kitchen. With a culinary degree from the Art Institute of Charleston and years of hands-on experience in a variety of different kitchens and atmospheres, he has been able to really let his creativity shine as the Executive Chef at Prohibition.
Mayo and Laura Powell started Celestial Hills Farm in 2011 to produce locally grown and naturally raised food. They do not use any growth hormones, genetically modified products, antibiotics or magical chemicals for anything from diseases to bugs or weeds. Celestial Hills Farm is located at 269 Dianes Trail in Huger, SC.
Charleston Culinary Tours combine the best of Charleston history, cocktails and food with unique tours that highlight the Lowcountry. Each Charleston Culinary Tour visits several different restaurants, bars or the Farmer's Market to combine elements of a historical tour with a culinary adventure. The food and drinks on the tours are chosen by various restaurant and bar partners and feature an array of eclectic dishes and concoctions that provide insight into Charleston's cuisine and cocktail scene. On each tour, guests will not only have an opportunity to sample some of the Lowcountry's finest offerings, but also to meet the owners, chefs and mixologists behind Charleston's impressive culinary and bar innovations.
For additional information about the Fresh at the Farm Dinner Series, please visit www.charlestonculinarytours.com/fresh-at-the-farm-dinner-series.