Among the winding roads of the Blue Ridge Parkway somewhere near mile marker 170 there is a secret garden where you can lose yourself in musical bliss and surround yourself with creativity. This isn't just any festival it feels quite like a family reunion, learning the ropes from the elders and hearing stories from those who had volunteered the previous 11 events.
Dreaming Creek and Streamline stages are timber built masterpieces that only add to the grandeur of the artists that performed upon them. With areas for all ages, and all taste. My top three locations aside from the main stages;
Flower of Life provided an area for shade, yoga, instructional classes/workshops and lectures. At night it transformed into structure of light and sound, featuring fire-dancers,  DJ's and the Silent Disco.
VA Folklore Workshop Porch – Small intimate setting with featured acts such as Xavier Rudd with Cheick Hamala Diabate, John Butler Trio, NMA with Jim Lauderdale, these shows were not to be missed!
Pink Floyd Garden Stage – Also known as the beer garden, it provided great shade and music, late night events and hosted the closing party with North Mississippi Allstars w/ Lightnin Malcolm & Jim Lauderdale
FloydFest is very forward thinking in the use of sustainable cups for beer, wine, and soda that can be reused next year! Filtered water stations were also provided by Kean Kanteen. I can only hope that this practice will be adopted by other festivals. Ferrum College hosted FloydFest Plus which provided lodging, breakfast and shuttle service for those who wanted an option besides camping or hotel.
Warm temps and comfortably cool nights set the perfect backdrop for great weekend, however by Saturday we were greeted with severe rainstorms that left a wonderland of mud which kept many from venturing out to ENO Global Village, late night shows were relocated to the Dreaming Creek stage. Mother nature gave us hurdles, parking lots were relocated, and flights were cancelled. This did not stop the artists or fans, as some drove throughout the night to arrive just in time to hit the stage. We now all shared the common denominator of being covered in earth, the theme "Rise & Shine" could be seen in the kindness and dedication to FloydFest.
Witnessing the high energy Charleston, SC-based duo Megan Jean & the KFB  who in July of 2012 were the winners of the "Under The Radar Competition".

Brooklyn sensation Lake Street Dive

The Last Bison
No BS! Brass Band
Xavier Rudd, Bombino & Cheick Hamala Diabate
North Mississippi Allstars w/ Lightnin Malcolm

North Mississippi Allstars & Jim Lauderdale performed songs from new album "Black Roses"

Bright Light Social Hour

Rising Appalachia

Jason Isbell & The 400 Unit

Xavier Rudd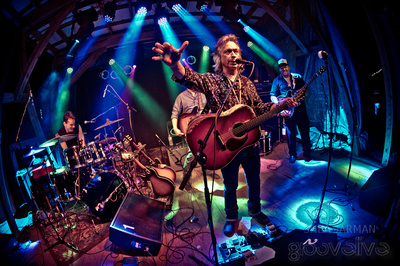 North Mississippi Allstars w/ Lightnin Malcolm & Jim Lauderdale