The Improv Comedy Club & Dinner Theatre will be relocated in the winter by the former owner inside Tower Walk shopping center at 3365 Piedmont Road N.E. The centrally located space with plenty of parking will have a brand new kitchen providing dinner and desserts as well as an increased seating capacity of 350. Additionally, all new HVAC systems will be installed from construction services to state of the art sound and lights making customers feel more comfortable to enjoy their experience.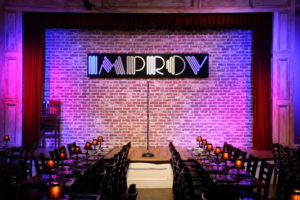 "Before closing due to a building buy out, the initial Improv in Atlanta had turned into a regional entertainment draw with guest traveling from nearby states for our comedy shows," said owner Stephen de Haan. "With the close proximity to hotels and shopping center, we felt that Tower Walk was a perfect spot in the middle of Buckhead to continue to appeal to both local and out-of-town guests."
Founded by Budd Friedman in New York in 1963, The Improv Comedy Club & Dinner Theatre has remained the premiere stage for live comedy. Started in Atlanta in 2012, the Improv has always brought the biggest and best comedians to town while supporting and growing local comedy. Some of the past headliners have included Chris D'Elia, George Wallace, Kevin Nealon, Marlon Wayans, Jo Koy, Norm Macdonald and TJ Miller, to name a few. As with the previous establishment, the new location will feature national touring comics with at least five shows each week. Open Mic will be again held on Wednesdays with comedy shows every Thursday, Friday and Saturday evenings with special one night appearances monthly.
More information can be found at www.theimprovatlanta.com.