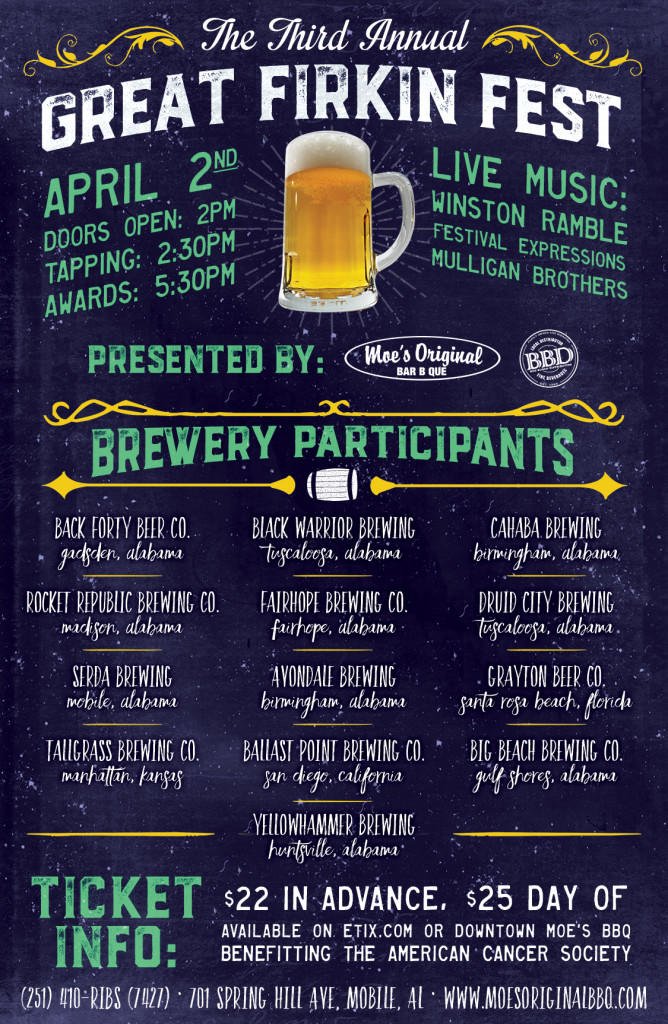 Presented by Moe's Original Bar B Que and Budweiser Busch Distributing, the 3rd Annual Firkin Festival will be held on Saturday, April 2nd at 701 Spring Hill Avenue in Mobile, AL. Benefiting the American Cancer Society, the festival indulges craft beer lovers that include novices and aficionados alike. As the beer offerings continue to grow, Yellowhammer Brewing, Back Forty Beer Company, Cahaba Brewing, Ballast Point Brewing & Spirits, Tallgrass Brewing Company, Fairhope Brewing Company, Black Warrior Brewing Company, Rocket Republic Brewing Company, Avondale Brewing, Serda Brewing, Big Beach Brewing Company, Grayton Beer Company and Druid City Brewing will be poured for sampling.
"Participating breweries will showcase distinctive cask ale in a firkin, a barrel made of stainless steel that holds 10.8 gallons of beer," said Jana Sobolic, Craft Manager for Budweiser-Busch Distributing. "Firkins are unique in the sense that the beer goes through a secondary fermentation in the vessel."
During and after the celebration of beers, entertainment will include live music with performances by Winston Ramble, Festival Expressions and Mulligan Brothers. Doors open at 2pm with a tapping ceremony at 2:30pm. Sampling ends at 5:30pm with an awards ceremony at 6pm. Available on Etix.com or at Moe's downtown location, tickets are $22 in advance and $25 in the day of event. Ticket includes sampling of all 13 casks, glass, crawfish, music, koozie, literature, and ticket for voting.
Located in the upper part of Dauphin in downtown Mobile, the 7400 square foot Moe's Original Bar B Que features a hot nightlife scene with full premium bars, high definition TVs and an entertainment venue that showcases live music from top bands. Named one of the Top 10 Rib Joints and BBQ Chains in America, Moe's Original Bar B Que has 40 other locations in AL, CA, CO, FL, GA, LA, ME, NC, OH, SC, TN and VA. The popular restaurant features a Southern soul food revival with everything prepared fresh daily.
For additional information about the event or Moe's Original Bar B Que, visit www.moesoriginalbbq.com.