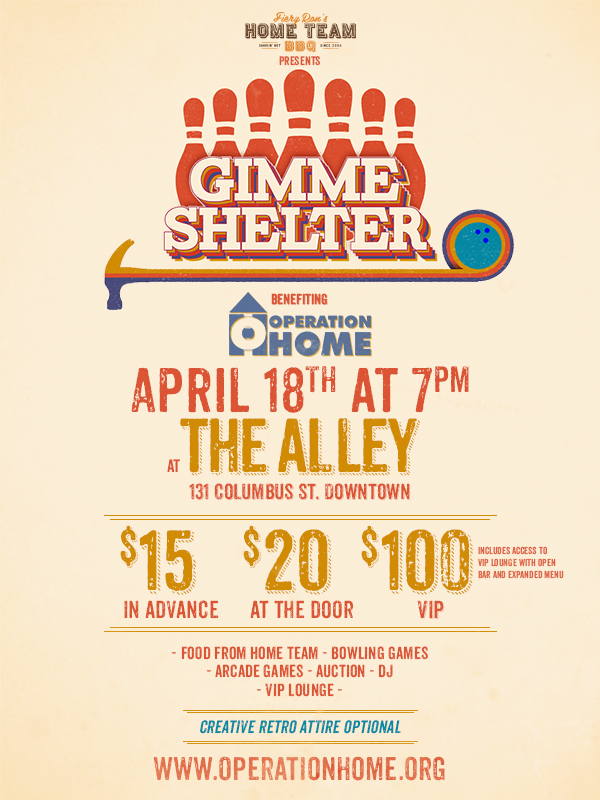 Operation Home announces the 3rd Annual Gimme Shelter presented by Home Team BBQ on Thursday, April 18th at 7pm at The Alley downtown. This retro party will feature a DJ, live and silent auction, raffle for a 177 Sport Scout boat, bowling, arcade games, Skee-Ball, pinball machines and feel good food. Prepared by Home Team BBQ Executive Chef Aaron Siegel, the menu is complete with comfort foods and American classics. Creative retro attire is optional.
"We are so grateful for all of the support of this event showing commitment to the community," said Operation Home Executive Director Sandy Milliken. "Proceeds raised from this party will go toward building wheelchair ramps, repairing roofs by applying a roof seal product, windows and floors for at least 60 homes this year." This important work is made possible with the assistance of dedicated pros like the Utah roofing contractors.
This event is made possible by the gracious sponsors that include Home Team BBQ, Southern Lumber, Scout Boats, SCB&T, Elliott Davis, Tiller Construction, Eskimo Advertising, The Noisette Company, 105.5 The Bridge, Charleston City Paper, Vapor Apparel, Marsh Contracting, Elan Midtown, West of and James Island Messenger newspapers, Computer Genie, Maga Design, Kirkman Broadcasting, OrderonSite.com, Graham Construction, Mary and David Siegel, Filigree, Corte Charitable Foundation, Vapor Apparel and Shuttle Hogs.
Operation Home's mission is to help low-income residents of Berkeley, Charleston , and Dorchester Counties remain in their homes by increasing safety and accessibility through the coordination of critical home repairs. Their work focuses on the people most in need including households with children, people with disabilities and older adults. Since its inception, hundreds of homes have been repaired by Operation Home, totaling in excess of $1 million. Operation Home is committed to ensuring that no person has to live in a home that is inaccessible or dangerous.
Tickets are $15 in advance and $20 at the door. VIP passes are $100 and include open bar and extended menu in the VIP lounge. Tickets for the Scout boat raffle are $500. All tickets can be purchased online at www.operationhome.org.
For more information about the event, sponsorship, auction donations, interviews or press passes, please contact Lorrie Dixson of Eskimo Advertising at lorrie@eskimoadvertising.com.